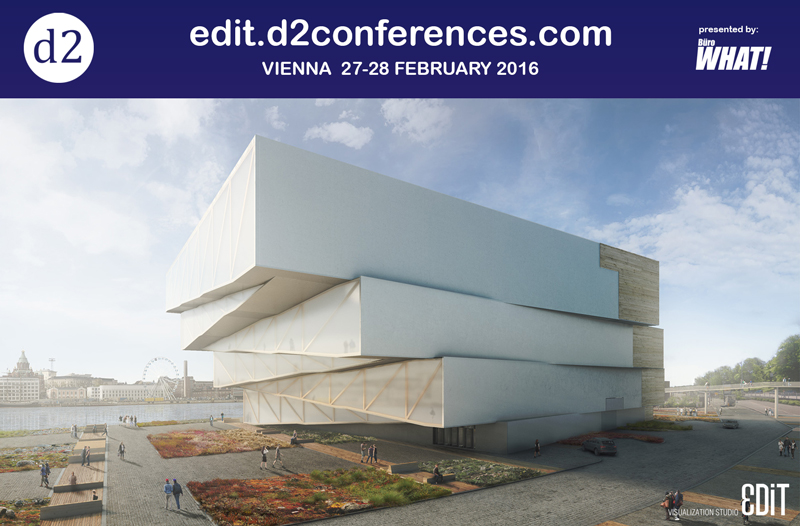 We cordially invite you to the EDiT Master Class Vienna!
Meet and learn from one of most talented young archviz offices in Europe.
Fresh from their impressive appearance at the d2 Vienna 2015, Igor and Uroš are coming back to Vienna to share their knowledge of the architectural visualization process – from the model through the render and onto the Photoshop canvas.
We will be going through a real life scenario of an actual project from start to finish. During the two day workshop we will analyze the most important elements that account for the final result – the approach, the intention, the setup, the theory and the praxis behind the final image, as well as share tips and tricks on the specifics of the image creating process. In short we are going on an image creation journey.
EDiT is a visualization studio based in Belgrade, Serbia founded by Igor Kožić and Uroš Nešić. In the fall of 2012, fresh out of the faculty of Architecture, they wandered straight into the world of Archviz. The studio focuses its work on producing realistic images which simultaneously possess a certain atmospheric quality not seen in everyday life.
More information about the EDiT Master Class:
Venue: Metropoldi Wien, Geblergasse 50, Vienna, 1070, Austria
Date: 27. + 28.02.2016, 10:00 – 18:00
Pricing:
Two days – Student: € 249,– VAT Incl. (Attendee will be required to present valid full-time student documentation at time of registration.)
Two days -Professional: € 289,– VAT Incl.
Deadline for registration: 26.02.2016
Please note: Participants will need to bring along a laptop with a current version of 3ds Max, V-Ray, and Adobe Photoshop installed (trial versions also possible). The workshop will be held in English.
To register for the event please select from the following options: Online Registration, office@burowhat.com or Tel.: 01-545 78 25. For more information, please visit our website edit.d2conferences.com or visit us on Facebook!
We look forward to your participation!